One of the great things about Wattpad is the ability to collaborate with your readers to help determine how others receive your story. The easiest way is for readers to submit cover art that can be used in place of the standard Wattpad generic cover.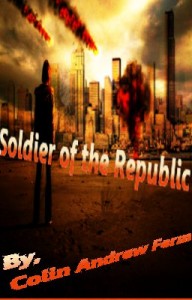 Over the weekend, I submitted the new Unified Republic of Stars story, Solider of the Republic, into an Undiscovered Wattpad Writers Facebook page contest and won third place. Part of the prize was to have either a book trailer or a cover created. I opted for a cover.
The result is what's on the right. Given the war theme of the early chapters of the story, I think it's pretty perfect, setting the scene of a city under attack on a dry dusty world.
Needless to say, I'm thrilled that this was done and Mia Trueheart (anaydena on Wattpad) will receive the dedication on the newest chapter, which I hope to post up this weekend, writing and editing time permitting.
If you haven't already checked out the three chapters that have been posted, be sure to read Soldier of the Republic on Wattpad and like or vote for it if it's up your alley. The story's up to 200 reads and now has several votes which will help when the story's finished and the Best of Wattpad voting begins!
Comments